AR-Series high-bay industrial LED fixture promotes particulate shedding and heat dissipation.
A sulfate storage and processing building in Alberta needs to upgrade its lighting. The operators wanted better visibility to improve worker safety.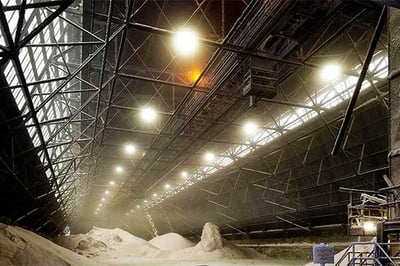 The fixtures themselves needed to be minimal maintenance with certified IP66 ingress protection. The areas within the facility will have excess dust and moisture. The LED lights require a watertight seal to dissipate water and explosive dust.
The focus was on-site safety and efficient plant operations. The lighting update began with a detailed lighting assessment and design. This review was to determine the project risk. A concern was utilizing existing lighting hardware and electrical assets. The fixtures would need to withstand harsh locations and be accurately certified.
---
Retrofit with AR-Series High-Bay Industrial LED Lighting.
Operations selected the Nemalux high bay AR light based on project requirements. The luminaire boasts an output of over 30,000 lumens with medium beam optics. The AR LED light fixture delivers safe and effective illumination. The AR improves light levels on the ground while existing in legacy lighting assets.
The AR-Series Industrial LED Light made the upgrade easy.
Retrofitting the existing installation meant a quicker, safer turnaround. Given the AR's design, it introduced particulate shedding and heat dissipation. Plus, the retrofit reduced power consumption by as much as 70%.
The operator has eliminated the need for yearly maintenance by switching to LEDs. These savings dramatically reduce disruptions to the operator's process.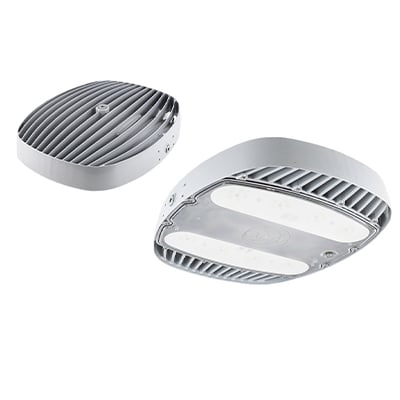 Nemalux's AR LED Luminaire is a versatile light fixture for harsh and hazardous location use. With a high-lumen output package, the AR delivers exceptional illumination. This fixture survives long-term exposure to contaminated environments. Rigorous cleaning routines do not impact the AR housing and lens.
The AR's design introduced particulate shedding and heat dissipation and reduced power consumption by as much as 70%