CANLED Product Specifications
Features:
Designed for harsh, and hazardous location use.
Copper-free, aluminum housing with polycarbonate lens.
Small size allows for deployment in difficult locations.
Factory sealed with 6ft flying lead and cable gland.
Thermally managed for maximum longevity.
Operates on 12 to 24 Volt DC direct input.
CANLED Certifications and Safety Ratings
Certified for general and hazardous location use under:
Class I, Division 2, Groups ABCD, T3
Effective Illumination for Industrial Applications
The compact design of the CANLED provides illumination options for unique applications. Customers in the food and beverage industries deploy the CANLED as a sight-glass light.

Within a nuclear power plant, the CANLED offers illumination as a task light. The heavy industrial-grade design offers protection against certain levels of radiation. Delivering continued illumination within a critical workplace.

Remote locations that rely on solar power can use the CANLED without the need for inverters. Since the CANLED operates on 12 to 24 Volt DC, it eliminates the need to convert solar power to AC. Maintaining low-voltage DC operations throughout the system maximizes efficiency and reduces costs.
Engineered for Extreme Environments
A single piece machined housing makes up the external case of the CANLED. Copper free aluminum with a type II anodized finish offers superior protection. The polycarbonate protective lens allows for impact resistance and sealing to IP66. All external fasteners are stainless steel to allow installation in outdoor locations.
LEDs located on metal core circuit boards provide an improved thermal path. Switching drivers located inside the housing allow operation from 12 to 24 Volt DC.
The flying lead routes through the 1/2" NPT entry on the back of the fixture and is factory sealed by Nemalux.
Simplified Installation & Operation
Connecting the CANLED to a main DC feed requires an external junction box. The flying lead and yoke mount from the fixture allow for aiming flexibility.
CANLED Product Mount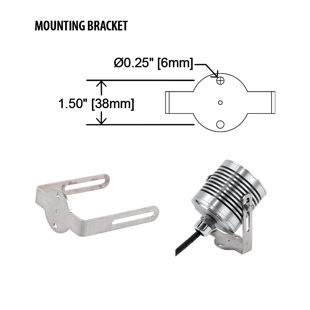 CANLED Product Dimensions