XCANLED Product Specifications
Features:
Robust construction suitable for indoor and outdoor applications.
Available with a 6ft pre-wired or quick disconnect cable.
Available with 100° flood or 30° narrow beam profile.
Designed for use in harsh and hazardous locations.
Thermally managed for maximum longevity.
XCANLED Certifications and Safety Ratings
XCANLED-DC Model
Certified for general location use under:
UL 2108
CSA C22.2 No. 250.0
The XCANLED-DC is also certified for hazardous location use under:
Class I, Division 2, Groups ABCD, T3
Effective Illumination for Industrial Applications
XCANLEDs provide illumination options for unique applications.
Oil and Gas customers have used the XCANLED for wide-ranging applications for over a decade. The ability to operate on 12 or 24 Volt DC allows use in areas where industrial power and equipment are present. Drilling rigs, coil tubing, and frac trucks use the XCANLED for localized lighting. Modular service buildings that have 24 Volt DC are readily available using the XCANLED. Installation on external surfaces offers perimeter illumination. Installation on external surfaces offers perimeter illumination. Within steam-assisted gravity drainage buildings, the XCANLED has provided sight-glass illumination. Delivering continued illumination within a critical workplace.
Engineered for Extreme Environments
A single 7" diameter machined aluminum block makes up the external housing of the XCANLED. Type II anodized finish is standard for the copper free aluminum housing. The polycarbonate lens offers impact resistance and an IP66 seal. Fasteners are stainless steel to allow installation in outdoor locations.
LEDs populated on four MCPCBs provide redundancy an improved thermal path. Four switching drivers located inside the housing allow operation from 12 to 24 Volt DC.
Two wiring options exist for the XCANLED model. The flying lead or quick disconnect are both using the 3/4" NPT entry on the back of the fixture. Both options are factory sealed by Nemalux and not field serviceable.
Simplified Installation & Operation
The XCANLED requires an external junction box for field wiring. Which allows termination to the main 12 or 24 Volt DC line. The pre-wired cable options and yoke mount allow for installation and aiming flexibility.
Locations that use solar power can connect the XCANLED without the need for inverters. The XCANLED operates on 12 to 24 Volt DC and eliminates the need to convert to AC power. Maintaining low-voltage DC operations throughout the system maximizes efficiency and reduces costs.
Military and aerospace customers use custom variants of the XCANLED. Exposure to high vibration, controlled rocket engine combustion, and momentary heat is common. Protective options include an IR-reflective glass lens and heavy-duty surface brackets. Specialty linear drivers allow flicker-free operation for high-speed camera vision.
XCANLED Product Mount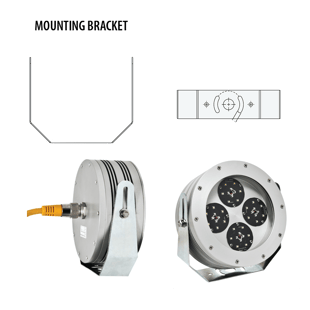 XCANLED Product Dimensions