EXC Product Specifications
EXCs are one of the smallest explosion proof LED light fixtures on the market. They are suitable for installation in confined areas needing a low-profile solution. The EXC provides illumination for dangerous workplaces to keep operators safe.
Features:
Copper-free, marine-grade aluminum housing with glass lens.
No arcing, sparking, or hazardous temperature components.
Tested to withstand more than 2,500 psi internal pressure.
Built-in junction box with 3/4" NPT entries on three sides.
Thermally managed for maximum longevity.
EXC Certifications and Safety Ratings
Certified for explosion proof use under:
UL 844, UL 1598, UL 8750
CSA C22.2 No. 137, CSA C22.2 No. 250.0, CSA C22.2 No. 250.13
EXC Safety Ratings:
Class I, Division 1, Groups CD T5
Class II, Division 1, Groups EFG T4A
Class III, Division 1
Class I, Zone 1, Group IIB
Class II, Zone 20, Groups IIIC

As per NEC 505.15(A) and CEC 18-108, no conduit seals are required during the installation.
Effective Illumination for Industrial Applications
Light Fixture Performance
1,220-lumen output LED light fixture suitable for explosion-proof location use.
Optimized Lighting Effect
The EXC has a low profile designed for confined spaces in extreme environments.
Engineered for Extreme Environments
Protected Against the Elements
Constructed from a copper free high pressure die-cast aluminum housing. All external aluminum surfaces carry a durable powder coat. The high impact frosted glass lens offers superior protection while improving the visual comfort.
Superior Results
A full cut-off ring and frosted lens provide glare-free illumination. Tested for more than 2,500 PSI internal pressure, the EXC provides increased safety.
Simplified Installation & Operation
Installation Options
The EXC offers two different mounting styles. The surface mount points are part of the standard housing. The adjustable yoke mount creates flexible deployment options. Three ¾" NPT entries are part of the built-in junction area.
Implementation Areas
Installation locations include explosion proof panels and enclosures. Municipal lift stations and service wells. Confined areas rich in explosive gases and paint cabinets. Chemical storage tanks and platform. Well heads and processing areas.
EXC Product Mount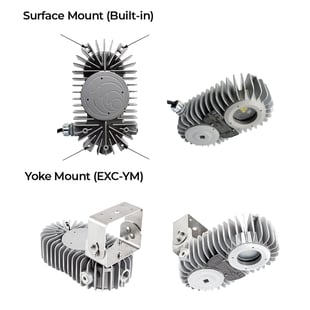 EXC Product Dimensions