NL Product Specifications
Nemalux NL fixtures are durable and robust linear luminaires. Designed to replace fluorescent fixtures in industrial and tunnel applications. The NL is available in 2' and 4' lengths and can be surface-mounted or suspended from a ceiling. Light output for the 4ft version with general location certification can be as high as 14,000 lumens. Several light output packages are available due to programmable power supplies. Adjustable brackets allow for 360° rotation.
Features:
Designed for marine, harsh, and hazardous location use.
High-output linear LED replacement for legacy vapor-tight lights.
Field serviceable light engines, power supply, and housing elements.
Copper-free, extruded aluminum housing with polycarbonate lens.
Approved for through-wiring of multiple units on a single circuit.
Angle adjustable mounting bracket allows for 360° rotation.
Built-in junction area for simplified termination.
NL Certifications and Safety Ratings
Certified for general and marine location use under:
UL 1598, UL 1598A, UL 8750
CSA C22.2 No. 250.0, CSA C22.2 No. 250.13
The NL is also certified for hazardous location use under:
NL Safety Ratings:
Class I, Division 2, Groups ABCD
Class II, Division 2, Groups FG
Class III
Class I, Zone 2, Group IIC
Class I, Zone 22, Groups IIIB
Effective Illumination for Industrial Applications
Light Fixture Performance
3,970 – 14,313 lumen output LED light fixtures for harsh and hazardous location use.
Optimized Lighting Effect
The NL offers a wide beam angle for optimal area coverage and comes in 2 different lengths. Ideal solution for linear fluorescent replacement.
Superior Results
The NL is available with general or Class I Div. 2 hazardous location ratings. New and existing facilities benefit from the high lumen density of the NL luminaire. Approved for through-wiring of multiple units on a single circuit. Battery backup is available on certain models for emergency lighting.
Engineered for Extreme Environments
Protected Against the Elements
Copper-free extruded aluminum housing with a type II anodized finish. High-pressure die-cast and powder-coated end caps. Impact-resistant polycarbonate lens. The combined protection level is IP66 and includes a pressure equalization vent.
Extended Luminaire Life
NLs maintain optimal thermal performance for a wide range of ambient temperatures. The optimized circuit board and housing designs enable a quick thermal path. Power supply heat management with superior interface results in long system life.
Improved Visibility
High-transmission polycarbonate lens with an integral hinge for easy access. Resistant to impact and vibration.
Simplified Installation & Operation
Installation Options
Three different mounting styles expand installation flexibility for the NL. Surface and angle adjustable mounts offer a high degree of impact and vibration resistance. Both end-caps include suspension points that also support secondary safety connections.
Areas of Use
Applications extend to drilling rigs and service equipment. Modular building and processing facilities. Tunnels and municipal assets. Marine vessels and military storage areas. Projects requiring battery backup use the general location NL2 or NL4 models. The NL is an optimized replacement option for obsolete linear fluorescent fixtures.
Light Fixture Connection & Maintenance
Built-in junction area with two ¾" NPT entries allows for through wiring. Reducing the need for external junction boxes. Solder-free component replacements are possible with the NL. Allowing end-of-life driver and LED module replacements and upgrades.
NL Product Mount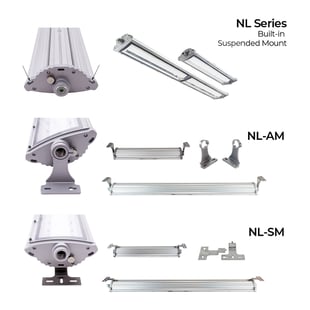 NL Product Dimensions