ZLM Product Specifications
The ZLM handles extreme installation heights. A high lumen-to-weight ratio enables deployment on structures with limited capacity.
Features:
Up to 28,800 lumens per module.
Watertight, lightweight, actively cooled, and modular.
Redundant systems and thermal management for reliability.
Light engine and power supply area sealed to IP66.
Small form factor for reduced wind loading.
Multiple optical profiles.
ZLM Certifications and Safety Ratings
Certified for general location use under:
UL 1598
CSA C22.2 No. 250.0, CSA C22.2 No. 250.13
Effective Illumination for Industrial Applications
Module Design
Nemalux's ZLM is a modular LED luminaire designed for mounting heights of 30 to 160 feet. Featuring one of the best lumens per-pound ratios in the outdoor lighting segment. Its modular configurations allow for a lumen output ranging from 28,000 (single) to 112,000 (quad). Incorporating versatility and durability in a single package.
Improved Visibility
With the help of high-quality LEDs and optics, the ZLM delivers targeted illumination. The extruded housing extends beyond the light-emitting surface providing a full cut-off. Superior optical control reduces the potential for light spillage and trespass.
Designed for Harsh Environments
The ZLM has a robust aluminum housing and an impact-resistant polycarbonate lens. Suitable for exposure to outdoor elements including the extremes of Northern Canada.
Engineered for Extreme Environments
Protected Against the Elements
The extruded marine-grade aluminum housing has a type II anodized finish. The protection level for LEDs (light engine) and power supplies is IP66. This allows for high-pressure washdown cleaning routines. Endcaps are powder coated and contain outdoor-rated fans for active cooling. Secondary safety harnesses can connect to the provided interface on the side of each ZLM.
Installation Options
The ZLM has three different yoke mounting configurations. A single module, two modules, and four modules. The adjustable yoke mounts create flexible deployment options. An extensive range of wide, narrow, and asymmetric beam profiles offer superior illumination. The ZLM delivers targeted illumination while eliminating light trespassing.
Simplified Installation & Operation
Implementation Areas
Areas of use include drilling rigs and high masts. Active construction sites, portable light towers, and cranes. Marine port terminals and train yards. The standard yoke mount provides flexible installation options and an extended aiming range. A secondary safety harness allows for added security.
ZLM Product Mount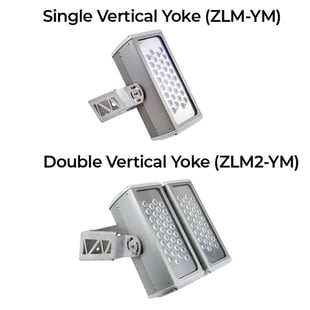 ZLM Product Dimensions