Hazardous Location & Explosion Proof LED Lights for Enclosures and Control Cabinets.
Control Cabinet Lighting
Conducting routine tasks or troubleshooting issues inside an enclosure can be a challenge. Inadequate lighting is typical for more extensive industrial facilities or remote sites. Handheld lights can add delays and, at times, dangerous shadowing inside panels. An LED strip light creates an efficient way to light control cabinets.
Permanent lighting installed at the panel's top improves operator safety and accuracy. Hazardous location rated luminaires can be critical on dangerous worksites.
Linear Enclosure Light
Installing a CID2 rated linear light in a hazardous location addresses this issue. The most popular HazLoc rated panel light in North America is the GS. Nemalux's GS operates on 12 Volt DC, 24 Volt DC, or 120 Volts AC. It provides localized lighting where needed. These industrial strip lights simplify tasks and speed up critical processes.
Compact Class I, Division 1 Light
EXCs are one of the most compact CID1 explosion-proof LED light fixtures on the market. They are suitable for installation in confined areas needing a low-profile solution. The CID1 light provides illumination for dangerous workplaces to keep operators safe. Our EXC lights up heavy-duty control cabinets in extreme environments.
---
LED Panel Lights are available in 4 lengths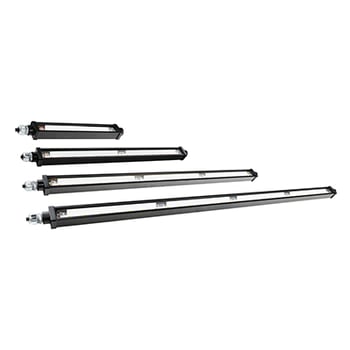 Nemalux GS lights are compact and durable. The GS is an excellent enclosure option designed as a hazardous location strip light. All variants are factory sealed and supplied with a 3ft flying lead. Suitable for outdoor and indoor applications. Standard mounting brackets allow for 360-degree articulation. The housing provides a full cutoff preventing light from hitting the operating eyes.