From a lighting design perspective, it's crucial to consider the environment of the workplace when selecting LED high bay or low bay lights.
Lighting Design Perspective
From a lighting design perspective, it is easy to assume that a plant is a large empty structure. This allows the specification of ceiling mounted or suspended lights. Spaced out to achieve target levels using explosion proof or hazardous location models. Most plants house complex and at times large equipment. Require operators to navigate tight spaces, walkways, platforms and so on. Performing complex duties to maintain uninterrupted production. Often, designs concepts and as-built realities end up far apart. At times not meeting required light levels or human centric best practices.
Lights can end up being blocked by large equipment. Creating shadows and potentially preventing access in the future for service or upgrades.
It's crucial to consider the fully outfitted plant when selecting LED high bay or low bay lights. Projects can combine ceiling, wall and equipment mounted luminaires to deliver superior results.
Light Output and Beam Profile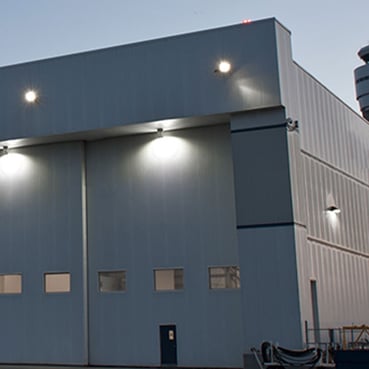 Considerations for high bay or low bay lights start with system lumen output. 5,000 - 15,000 lumen output models are often used as low bays for 12–20ft mounting heights. Higher output models starting at 18,000 lumens allow use at heights of over 20ft.
Beyond the lumen output value, considerations must be given to the light beam profile. Matching the distribution type with application details and mounting location is key. Secondary optics with Type 5 for example deliver superior results for open spaces. Allowing a very low ratio between max and min light levels for even illumination. Type 3 on the other hand reduces backlight on walls to push light towards the usable space. While Type 1 is often used for aisle lighting, reducing consumption and light spill.
Supplemental lighting located on internal perimeter walls, short poles and equipment is the proffered design approach for many facilities. This reduces the need for high bays. Moving lights to a more accessible location, improving visual quality and future serviceability.
Color Temperature and Color Rendering Index
Traditional HID fixtures offer limited options for color temperature and high CRI selection. Using Metal Halide bulbs within facilities offers a "white" light, while HPS often flood the exterior with "orange" light. Improved lighting quality, visual comfort and color representation are all available with LEDs.
4,000 - 5,000K color LEDs offer great options for indoor application, while providing high CRI options of 90+. This creates an environment where operators conduct work while maintaining safety and accuracy. Exterior lighting choices are available in 3,000 - 5,000K, depending on the sensitivity of the surrounding environment. For dark sky compliance and reduced impact on flora and fauna, select 3,000K or lower options. Nemalux's catalogue offers options for all the categories.
Controls for High Bay and Low Bay Fixtures
Motion and daylight sensors are a common way to increase energy efficiency. Explosion proof and hazardous location lighting strategies often use a zone-based approach. This allows grouping of several lights withing a single zone, controlled together. With this approach contractors mount controls in small enclosures. Supplying a control signal such as 0-10V to dim compatible power supplies.
Most LED fixtures are instant-on capable. Providing added flexibility and many ON/OFF cycles per day. Older HID fixtures with long warm-ups are not an ideal option for controls.
Close coordination is a must to ensure compliance with health and safety considerations. Since explosion proof and hazardous location rated areas have heightened safety needs. Which may overrule the desire to reduce power consumption.

Ingress Protection Levels for High Bay and Low Bay LED Lights
IP ratings show the level of protection against dust and moisture. Industrial facilities often experience a higher degree of contamination compared to commercial locations. The presence of contaminants and potential need for intense cleaning routines mandate a well-sealed luminaire for heavy industrial applications.
Specialized gaskets and other housing elements offer high bay and low bay lights with protection levels reaching IP66/67.
Dust and liquids accumulate inside of commercial grade lights in many processing facilities. This reduces light output, creates unattractive appearances, and results in expensive maintenance tasks.
Consider the IP ratings of LED fixtures when selecting high bay and low bay lights. Ensuring suitability for the explosion proof or hazardous location environment they will illuminate.
Fixture Lead Time
Explosion proof or hazardous location rated lights are often not stocked by many suppliers. They remain a special-order item for most projects, independent of order quantities.
The availability of high bay and low bay explosion proof lights is an important consideration for projects. Especially when working with tight deadlines for a lighting installation.
Prioritizing North American Made products avoids delays for lighting project. These can be shipped from electrical distributors or drop-shipped directly to sites.
Future Upgrade and Serviceability
LEDs and their power supplies outlast conventional HID high bays by many years. Despite this longevity, it is important to specify and install lights designed with service in mind. In case of explosion proof lights for hazardous location use, it is important to maintain the system for many decades. These systems are heavy duty equipment and operators want to maximize their positive impact. Upgrading aging light engines and power supplies offers a low-cost opportunity to extend system life.
Energy Rebates for LED High Bay and Low Bay Lights
Energy efficiency and long system life make LED high and low bays a good option for industrial facilities. Locations that need explosion proof lights for hazardous areas are also transitioning to LED models. This transition process is ongoing and can be supported by rebate programmed. These are specific to each location and should be identified prior to project execution.
Rebate eligibility ensures access to incentives offered by utility companies. It's important to consider the latest Design Lights Consortium (DLC) listings. Power requirements, lumen output and other specifications define eligibility levels for LED fixtures.
It's advisable to check with your utility company about rebate eligibility, as requirements may vary.
Collaborating with a lighting partner is key for project success. They can assist in assessing options and refining a strategy. Delivering products that meet project goals, budgets and ensuring uninterrupted operations.
Mid-range fixtures may provide better long-term financial outcomes.
Conducting a mock-up to test performance in existing facilities is common. Installing a group or row of fixtures where possible allows to gauge performance.